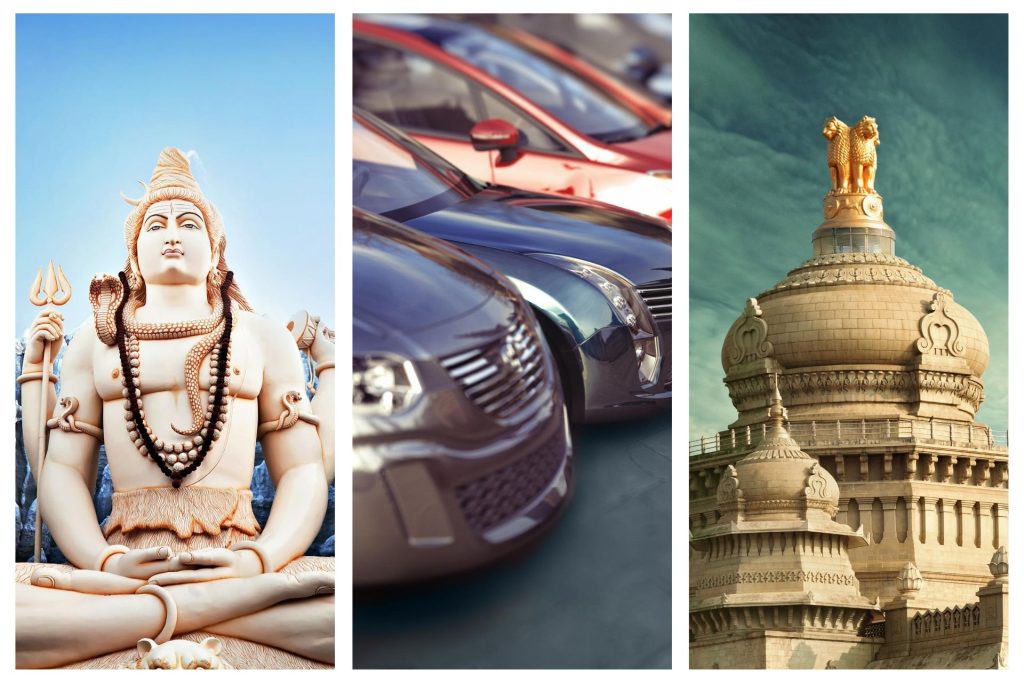 Bangalore is a city that amalgamates modernity with historical richness and cultural grandeur. It is a city of palaces, well-preserved ancient temples, lakes, and gardens. A shopping hub to being a gourmet's delight, Bangalore city has many things to offer its visitors.
Experience ultra-luxurious traveling or go for a budget travel within the city with Bangalore Ride. Spend a fine evening by the side of the lake or spend a night exploring the nightlife of Bangalore, we are just a call away 24/7.
Pamper yourself and indulge in shopping or offer prayers at some of the most prominent temples in the city. This commercial hub of India offers entertainment and enjoyment as well, becoming an ideal holidaying destination.
Visit its various temples or take food tours to various eating hot spots of Bangalore, there are many new ways to explore this Garden city. Bangalore Ride is one of the simpler, comfortable, economical and easiest ways to travel around the city.
We at Bangalore Ride, offer an extensive range of budget and premium taxis to meet your city travel needs. We also offer Bangalore city tour packages, in a well maintained and comfortable taxi that you can book online or just by giving a call.
Our Bangalore taxi service is available round the clock for your local and outstation travel needs. The good news is we promise a memorable travel experience irrespective of which vehicle or package you choose.
With Bangalore Ride by your side, you can explore Bangalore city as well as Weekend getaways from Bangalore in the best possible way. What sets our taxi services apart from others is our professional drivers, the quality of our services and the cost effectiveness of taxi hire packages.
We present a renewed way of finding the hidden gems of the city as well as looking at the heritage with a new more entertaining and engaging perspective.
Choose your Bangalore Taxi Package
We at Bangalore Ride have a wide array of Bangalore city tour packages by private taxi that you can choose from. Whether you are running short of time or looking for a relaxed, thorough travel in and around Bangalore, you will find a suitable taxi package from our extensive list.
We have packages varying from half day city tour package, full day city package to 2 Days to 12 days outstation taxi packages. Along with this, in association with Bangalore Tourism we also offer all-inclusive holiday packages with stay options to various destinations in Karnataka and around.
Our shopping packages present our customers with the best of shopping locations in Bangalore, while our food tours are designed for those who love to experiment with food and believe in learning a city through its food!
There are many temples in Bangalore which are worth seeing such as Bull temple, ISKCON temple, Gavi Gangadeshwara Cave Temple, Dodda Ganapathi Temple, Maha Bodhi Society Temple, etc.
Equally exciting are the weekend getaways from Bangalore. Sangama & Mekedatu, Ramanagara (50 km), Savandurga (60 km), Ghati Subramanya (45 km), Nandi Hills, Shivaganga, Pyramid Valley, Sri Siddalingeshwara Yogavana Hills (30km), etc., are some of the popular places located around the Bangalore city.
History lovers can opt for heritage packages including places such as Bangalore Palace and Tipu Sultan's Palace. While our night city tour by private taxi is an ideal for a group of youngsters. There are umpteen number of vehicle only packages at Bangalore Ride, each promising a memorable road trip.
For those who have specific requirements, we have all-inclusive customized taxi rental packages as well. Travelers can let us know their preferences and we help you plan to choose the right vehicle and plan the trip in the way they want.
Travelers can add and remove the destinations as per their preferences and opt for specific assistance for elders and children. The Bangalore Ride team is always ready to make your travel a pleasant experience.